ABOUT US

We wish to avail this opportunity to introduce ourselves as one of the major Importers and Stockist of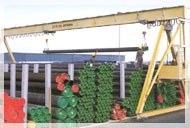 various kinds of Alloy Steel, Carbon Steel, Mild Steel, Stainless Steel And other Ferrous and Non-Ferrous Metal.

We always maintain sufficient stocks from well-reputed manufacturers and also from for the above products. We are special Stockiest/ Distributors of Maharashtra Seamless Ltd / The India Seamless Metal & Tubes/ Jindal Steel Tube Ltd/ SAW Pipes / Nyka Tube Pvt. Ltd. With there Original Manufacturing Test Certificate.
We cover tremendous number of manufacturers and import and stock in our warehouse further the fact and aspect allows us to make a proper quotation to our clients in many cases with our experience and flexible staff. We cover Specification, Size in large and different quality calling " Package Deal Projects ". We have a tie up with leading Laboratory to carry out immediate test for Chemical and Physical and other Supplementary Test required as per standard specification. Further most of our materials are covered under Third Party Inspection like Intertek
Bureau Verita, DNV, SGS, Lloyds, L & T, E I L, CEIL, IBR, TATA etc. which is Internationally renowned Inspecting Agencies. WE SHALL ALSO FURNISH THE EXCISE GATE PASS (MODVATE BENEFIT). . which is Internationally renowned Inspecting Agencies.
We also have the facility to provide material with IBR Form 3A, 3B, 3C & 3D countersigned by third

party inspection like Engineering India Ltd. or recognized mills approved under Indian Boiler Regulations. For our customers the important features that we also accept large quantity and small quantity with no minimum quantity, which is interesting for your requirement in special and out stranded sizes. The special features of our facilities are to satisfy urgent requirement delivery time.
Our office is well equipped with the latest communication system and yard is fully geared with proper handling systems for conducting inspection loading and the personals are fully experienced and familiar with International Standards and quality and dealing with clients. Our main clients are Refineries, Chemical Plants, Petrochemicals Industry, Fertilizers, Cement and Industrial Boiler Manufacturers. Our Motto is to maintain quality standard material and with time bound characteristics to our buyers.

We would be able to serve you if an opportunity is given. We look forward for you esteem inquiry and please do not hesitate to call upon us for any discussion. We look forward to build a strong relationship in future. We furnish the following details for approval:-